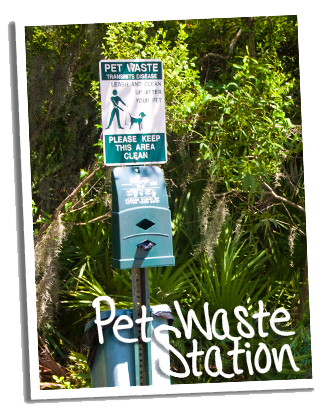 Surveys show that 60% of Americans have a pet with 40% being dogs. Dogs bring joy, comfort and companionship to our lives along with a lot of waste. As responsible members of a community it is your duty to make sure that dog waste is properly collected and disposed.
Unfortunately, this is not always the case resulting in a tremendous amount of neglected dog waste polluting your community. Effective dog waste management for a multi-family community requires education, policy implementation, enforcement, the installation of pet waste stations, and routine pet waste cleanup and removal.

The PU Crew provides the following services to communities:
We provide regular waste removal of your property on a weekly, bi-weekly, monthly or One Time cleaning.
We service pet waste stations, removing waste and filling dispenser.
We offer a FREE quote of your property.
Stop the complaints from your residents by allowing us to assist you in achieving a safer, cleaner, beautiful community. Your residents will thank you!
Communities We Service:
Apartment Complexes, Parks, Condominiums, HOA's, Dog Parks, Special Events, Town Home Communities.
Click here to sign up for service or call (419) 882-6402.